Engaging quotes
Tweeted from your account
Choose topics, timing, hashtags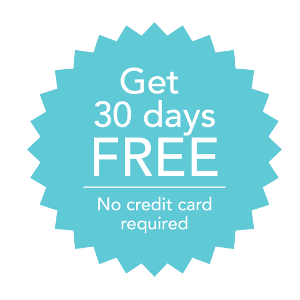 How It Works
Nimble Quotes automatically posts relevant quotes from influential people to your Twitter stream as if you tweeted them yourself. It supplements your existing social media without requiring you to learn new software, research quality 3rd party content, or monitor your feed.
At Nimble Quotes, we know you already have a lot on your plate. That's why we've made setting up and using your account as easy as possible.
Step 1. Sign in to your Twitter account through our secure site. Your 30-day free trial starts immediately. No credit card required.
Step 2. That's it! Watch Nimble Quotes do the work. Check out Nimble Quotes in action on our testimonials page and on these accounts: @jenkellyjen @newimarketing

Once you've added Nimble Quotes to your Twitter feed, quotes will appear on your stream as if you've tweeted them yourself. Engage with your followers the way you usually do and if you get into a conversation, come back to Nimble Quotes to Pause your stream while you chat. You can Resume whenever you're ready.
With Nimble Quotes, you are always in control: how often we post on your behalf, real-time start/pause/stop options, even customizable hashtags. It's easy to set up with absolutely no software to learn and for as little as $49/year, your account can be completely personalized.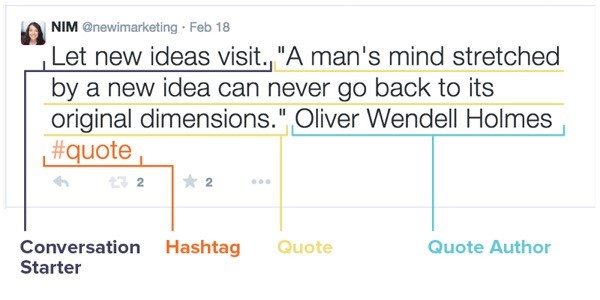 Why Choose Nimble Quotes?
Using Nimble Quotes to supplement your own posts harnesses the power of Twitter to attract and grow your audience without having to source 3rd party content, learn new software, or manage an automated scheduling system.
Twitter is a community of conversation. Positive, inspiring quotes receive more retweets, replies, and favorites than any other type of content. Nimble Quotes provides a no-time, stress-free way to deliver quality content to your Twitter followers.
Nimble Quotes includes the words and wisdom of:
• Winston Churchill
• Plato
• Oprah Winfrey
• Warren Buffett
• Tony Robbins
• ...and hundreds more
Our Promise
Our Content Watch system ensures that every quote is secular, non-partisan, and free from questionable, controversial, or offensive material. If a well-spoken celebrity is involved in a scandal, we immediately pull any quotes that could negatively impact your business.
Nimble Quotes contains no advertising so you can be assured that your Twitter feed remains relevant, accessible, and on brand.
Subscription & Pricing
FREE 30-Day Trial - Advanced subscription*
Features

Basic

$49/yr. USD

Advanced

$29/mo. or $299/yr. USD

Custom

$99/mo. or $999/yr. USD**
# of quotes/24 hrs

1 to 8
1 to 8
Unlimited
Choose Quote Categories

Conversation Prefix

Content Watch

Author Choice

Pause/Resume

Account Setting Choices

Choose Time Window

Choose Specific Times

Choose Specific Days

Choose Your Hashtags

Your Custom Content

Custom Conversation Prefix

Custom Shortlink

Sign Up
Sign Up
Contact Us
IMPORTANT:
Once your 30-day free trial expires, the Nimble Quotes system will default to the "Complimentary" subscription (1 inspirational Nimble Quote / 24 hrs with no setting options). Choose the Advanced subscription before your trial ends to preserve your settings and custom hashtags.

**Custom subscriptions are subject to a custom database load fee.
What people are saying
Nimble Quotes subscribers easily attract new followers, increase conversations and engagement, and deepen relationships within their social media community.
| | |
| --- | --- |
| | "I have Nimble Quotes set to go out 5 times a day. I have noticed increased engagement (some tweets getting 7 retweets) and have increased my Twitter following by over 100 new people in just a short time." |
Wendy McClelland
— Trainer, Social Media Demystifier, Author of
27 Steps to Freedom @wendyweb47
| | |
| --- | --- |
| | "I've been using Nimble Quotes as a way to supplement my online activities. Not only are the quotes refreshing and well done, but they also encourage me to engage with Twitter more often. During my entire professional career, I've looked to Frances Hesselbein as a role model - for leadership, time management and dedication. Today, Frances favorited one of the quotes from my Twitter stream. It made my day!" |
Pamela Campagna
— President, BLUE SAGE Consulting Inc.
@pamcamp
| | |
| --- | --- |
| | "I'm using the business category of Nimble Quotes and have seen more qualified (to my business) engagement on my Twitter stream. This service has helped me understand Twitter better and the quotes are warm, friendly and aligned with who we are as a business. It's nice to not always be tweeting about hard business facts. People relate to quotes and this helps us start conversations. You build your business by building relationships." |
Judi Hughes
— Partner, Your Planning Partners
@YPPltd
| | |
| --- | --- |
| | "I ran into a very busy time with my business and was traveling a lot. The Nimble Quotes service saved me. My Twitter account was kept alive and active when I wasn't able to focus my attention on it. Thank you!" |
| | |
| --- | --- |
| | "I meant to email you and let you know that I'm getting positive responses to the Nimble Quotes. They are usually retweeted or favorited!" |
| | |
| --- | --- |
| | "It is pretty easy. I choose a category of quotes and let the automation do the rest. I own a personal training company and my first priority will always be my clients. Using Nimble Quotes has saved me time as my Twitter feed is always active with fitness-related quotes to inspire and engage my audience." |
Andrew Ciccarelli
— Owner and Head Trainer at Brash Fitness Strength & Conditioning
@BrashFitness
Get Started
Stop spending all your time
searching for relevant 3rd party content.
Lead the conversation with Nimble Quotes


Newsletter
Sign up for the Nimble Quotes newsletter to receive the newest tips on how to start Twitter conversations and enhance your online experience.
Questions: info@nimblequotes.com