Nimble Quotes V1.0 (2015-2023) is no longer in service. It was a SaaS that posted inspirational quotes to your Twitter stream. V2.0 is in the works. If you love inspirational quotes, stay tuned.

Welcome! Thanks for finding Nimble Quotes. We're best at helping Twitter users who have the following challenges… do any of these frustrations sound like you?
• I'm having trouble figuring out how to get likes and mentions and retweets for my tweets
• I love quotes, so does my audience but I am tweeting quotes with someone else's branding or company name on the quote
• I am new to Twitter and not sure what to post
• I am an experienced Twitter user and need some"non-business" content to break up my "all business, all the time" Twitter stream
• I am frustrated by how long it takes to search for good quality quotes to tweet – never mind finding quotes that are "work safe" and fit in the 280-character limit!!
If so, you're in the right place...
If you want to have Nimble Quotes help you and want to get going right now – here's what to do:
Step 1. 1. Go to the Nimble Quotes home page, click the "sign in with Twitter" blue button, authenticate with Twitter (this is automatic).
Step 2. Now choose your categories, timing, hashtags, perhaps try out our quotes with photos (in beta) and you're done. Your 7-day free trial starts immediately. No credit card required.
If you are not so sure…maybe the Twitter algorithm will decide your fate…
Social media is changing, including Twitter. These platforms are all run by algorithms and they are tweaked and updated. The most recent Twitter update encourages engagement. If you do nothing to increase your engagement (likes, retweets, mentions) the Twitter algorithm will bury you. Twitter is giving preference to those accounts who are showing engagement with their content.
This is a recent shift that was news at Social Media Marketing World, an industry conference. Twitter and other social networks are adjusting their algorithm so it is no longer about posting more or at certain times, but instead about how many people are engaging with your tweets. How many people today are engaging with your tweets? Nimble Quotes can help.
Famous quotes work to engage your audience because first, they are famous, and second because these famous people have summed up some great emotion in one sentence. They are nothing short of magical!
Most people resonate with a favourite quote when they see it written. It can give them the uplifting feeling they need to tackle their day. Why not be the source of these positive feelings for your audience?
Nimble Quotes includes the words and wisdom of:
• Winston Churchill
• Plato
• Oprah Winfrey
• Warren Buffett
• Tony Robbins
• ...and hundreds more
This is how a Nimble Quote will look in your Twitter stream. No advertising! Looks like you Tweeted it yourself!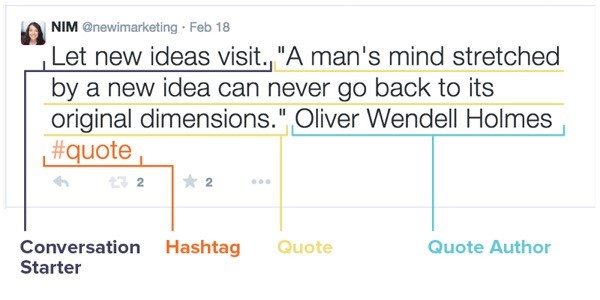 How Nimble Quotes Started - Our Story
Nimble Quotes started with us finding famous quotes to add to our clients' Twitter streams in between the business information they were tweeting.
We had to search every day for quotes and post them to Twitter. The search for quotes was time-consuming – trying to find "safe for work" quotes that also fit within Twitter's 280 character space.
Our clients were getting a lot of retweets, likes and mentions on the quotes. This helped our clients start conversations with their online audience particularly as they weren't really sure how to start a conversation online with total strangers. I mean, who is?
So, when someone mentioned on Twitter to our clients that: "I love that Mark Twain quote!" this was an icebreaker, and our clients felt comfortable jumping in to say "Me too …" and voila, the door was opened and the conversation could start.
It's important to have the start, the first conversation, the icebreaker – it is the beginning of your online audience getting to know, like and trust you.
So we put together a beta trial to see if there was any interest in a service that found and tweeted quotes for you – without any branding. Turned out, there was an interest. The result is what you see – Nimble Quotes.
Our customers had a lot of good ideas of what they wanted in a service that automatically posted quotes for them.
We had to make them look good online, and had to allow them personalization features in Nimble Quotes. We listened and here are the features you have control over with your subscription:
• Learn about the power of hashtags on Twitter for your Twitter stream. Choose your own hashtags to appear with your quotes. This helps you target an industry, geography or community that matters to you. Learn about the HashTag Power feature.
• Have an audience in another part of the world? Stop doing the time zone math!! Let our feature Time Control help.
• We're always looking to improve, so do give us your feedback on the blog or by sending a note to Jen (jen[at]nimblequotes[dot]com).
• Famous people doing not-so-inspiring things? Our Content Watch feature has your back so you're never tweeting quotes that have a negative feeling.
• Like some quotes but not others? You can eliminate quote authors you don't know or don't like with our Author Choice feature.
The Nimble Quotes Promise
Our Content Watch system ensures that every quote is secular, non-partisan, and free from questionable, controversial, or offensive material. If a celebrity is involved in a scandal, we immediately pull any quotes from them that could negatively impact your business.
With Nimble Quotes, you are always in control: how often we post on your behalf, real-time start/pause/stop options, even customizable hashtags. It's easy to set up with absolutely no software to learn and for as little as $299/year (80 cents a day), your account can be completely personalized. Who can do it better?
We have thousands of subscribers and these six subscribers took time to provide testimonials on our website.
You'll find other testimonials over on the Nimble Quotes Facebook page, under reviews.
• "I gained more followers."
•"The quotes helped me understand how Twitter works – I get it now!"
• "I don't have to search for quotes to post."
• "The quotes add a human element to my business stream."
•"They help me start conversations online which has led to business."
•"If I miss a day of posting my own content, the quotes keep my stream alive and me looking good."
•"People tell me they search for my quotes each morning to get inspired."
Nimble Quotes paid subscriptions contain no advertising so you can be assured that your Twitter feed remains relevant, accessible, and on brand.
Try Nimble Quotes Today
Try Nimble Quotes today, with a 7-day free trial of the Advanced subscription. This includes 60+ categories of quotes, unlimited hashtags of your choosing and your custom timing. It is a good test to see if quotes resonate with your audience.
Check out the 70-second getting started video. If you need any help, click on the "leave a message" button at the side of the screen or email Jen Kelly the founder of Nimble Quotes. Have more questions? Check out the frequently asked questions section.
With Nimble Quotes, you are always in control: how often we post on your behalf, real-time start/pause/stop options, even customizable hashtags. It's easy to set up with absolutely no software to learn and for as little as $299/year (80 cents a day), for the Advanced subscription, your account can be completely personalized.
If you choose the Basic $99/year subscription, you'll get access to all quotes, but not the personalization features.
One of the subscriptions will suit you best. Try it out for 7 days and see! Click below to get started now:
Subscription & Pricing
FREE 7-Day Trial - Advanced subscription*
Features

Basic

$9/mo. or $99/yr. USD

Advanced

$29/mo. or $299/yr. USD

Custom

$99/mo. or $999/yr. USD
+ Custom load fee.
# of quotes/24 hrs

1
Up to 8
Unlimited
Choose Quote Categories

Conversation Prefix

Content Watch

Author Choice

Pause/Resume

Account Setting Choices

Choose Time Window

Choose Specific Times

Choose Specific Days

Choose Your Hashtags

Your Custom Content

Custom Conversation Prefix

Custom Shortlink

Sign Up
Sign Up
Contact Us
IMPORTANT:
Once your 7-day free trial expires, the Nimble Quotes system will default to the "Complimentary" subscription (1 inspirational Nimble Quote per week with no setting options). Choose the Advanced subscription before your trial ends to preserve your settings and custom hashtags.
What people are saying
Nimble Quotes subscribers easily attract new followers, increase conversations and engagement, and deepen relationships within their social media community.
| | |
| --- | --- |
| | "I've been using Nimble Quotes as a way to supplement my online activities. Not only are the quotes refreshing and well done, but they also encourage me to engage with Twitter more often. During my entire professional career, I've looked to Frances Hesselbein as a role model - for leadership, time management and dedication. Today, Frances favorited one of the quotes from my Twitter stream. It made my day!" |
Pamela Campagna
— President, BLUE SAGE Consulting Inc.
@pamcamp
| | |
| --- | --- |
| | "I'm using the business category of Nimble Quotes and have seen more qualified (to my business) engagement on my Twitter stream. This service has helped me understand Twitter better and the quotes are warm, friendly and aligned with who we are as a business. It's nice to not always be tweeting about hard business facts. People relate to quotes and this helps us start conversations. You build your business by building relationships." |
Judi Hughes
— Partner, Your Planning Partners
@YPPltd
| | |
| --- | --- |
| | "I ran into a very busy time with my business and was traveling a lot. The Nimble Quotes service saved me. My Twitter account was kept alive and active when I wasn't able to focus my attention on it. Thank you!" |
| | |
| --- | --- |
| | "I meant to email you and let you know that I'm getting positive responses to the Nimble Quotes. They are usually retweeted or favorited!" |
| | |
| --- | --- |
| | "It is pretty easy. I choose a category of quotes and let the automation do the rest. I own a personal training company and my first priority will always be my clients. Using Nimble Quotes has saved me time as my Twitter feed is always active with fitness-related quotes to inspire and engage my audience." |
Andrew Ciccarelli
— Owner and Head Trainer at Brash Fitness Strength & Conditioning
@BrashFitness
Get Started
Stop spending all your time
searching for relevant 3rd party content.
Lead the conversation with Nimble Quotes


Newsletter
Sign up for the Nimble Quotes newsletter to receive the newest tips on how to start Twitter conversations and enhance your online experience.
Questions: info@nimblequotes.com