What is Nimble Quotes, or what are Nimble Quotes….just explain!
Think content as a service. A simple and personalized service to keep your Twitter account continuously active with engaging content. Our quotes are a bit different than many of the quotes you may find on social media. We ensure that each quote "author" (the person who wrote or said the quote) is attributed. We add a conversation starter to each quote. We add a hashtag to each quote. The service gives you control and personalization of days, times, quote categories and much more. Once set, your Nimble Quotes appear continuously based on your chosen settings. No need to reload or reschedule a thing.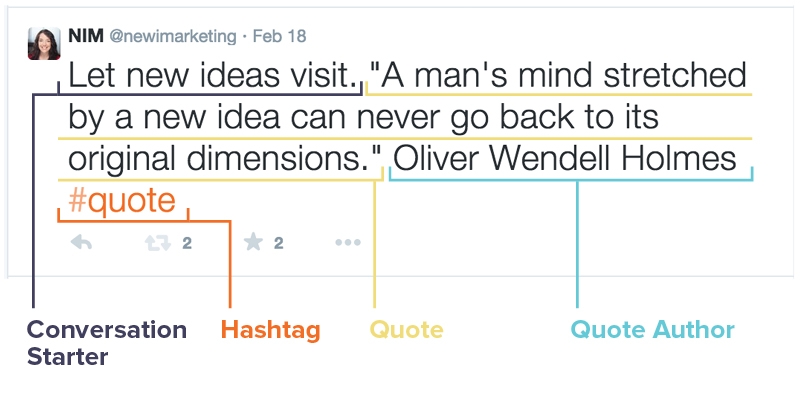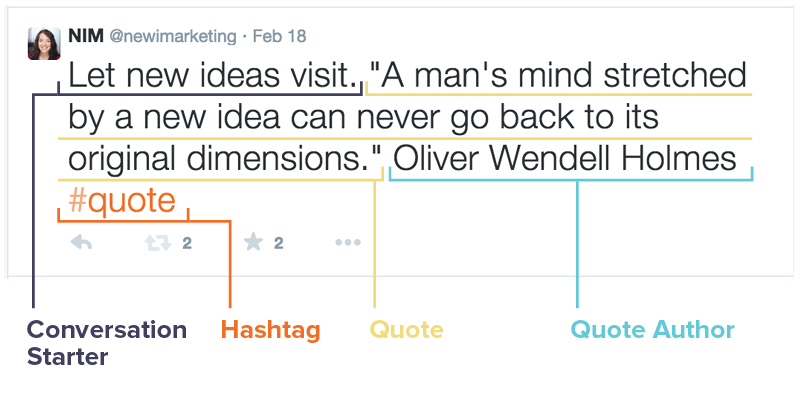 What if I want to stop the quotes?
Joining in on a Tweet Chat or starting to live tweet from an event? You don't want Nimble Quotes interrupting your conversation. Simply log in to Nimble Quotes and hit the Pause button. Your Nimble Quotes will stop until you log in and hit "Resume".
How do you find the quotes?
We have a team of Canadian researchers who search for publicly available quotes. Our quotes are not promotional and carry no advertising. They are vetted for quality and content. These quotes are secular without a partisan, political or religious point of view and are free of questionable, controversial or offensive material. Try Nimble Quotes today.
Are all the quotes "inspirational"?
Our largest category, and default category is inspirational quotes. We also have specific categories of quotes on/about: Sales, Business, Books/Authors, Entrepreneurship, Fitness/Health, Leadership, Investing, Real Estate, Girl Power… about 30+ categories with more being added all the time. Choose one, a few, or all categories – whatever works for you and your strategy for sharing information on Twitter.
Is there really no software to learn?
No software to learn. If you can check off items on a "to do" list, you can use Nimble Quotes, it really is that easy. Just log in with Twitter, check off the time zone, days, times, and quote categories you want and you're done. Come back at any time to adjust or change your settings. Change your setting as many times as you like.
How do the quotes engage my followers?
Quotes get an enormous amount of activity on Twitter. We consider engagement to be re-tweets, favorites, mentions and follows. People are touched by the wisdom, inspiration, motivation and comfort these words provide. Having quotes in your Twitter stream, in addition to the other content you share, can be an effective first step to breaking the ice, connecting and attracting people you'd like to know, learn from and perhaps, do business with. Give Nimble Quotes a try now.
What is Content Watch?
Sometimes an author, being human, may get into a scandal or a negative situation. We've got your back when it comes to this content. We simply suspend from our database, any quotes from authors that get into this type of situation. Learn more about Content Watch.
What does Author Choice mean?
You choose who gets to show up in your Twitter feed and who doesn't. Many users told us that they loved quotes, except from 1 or 2 specific people. Was there a way to exclude quotes from those people ever appearing in their Twitter stream? Yes. That is what "Author Choice" does. Select, or rather, exclude those few people you DON'T want quotes from. They'll never appear in your Twitter stream. Like all Nimble Quotes settings – adjust and change this option any time you want. Learn more about Author Choice.
What are default hashtags?
The purpose of Nimble Quotes is to help you get into the conversation. We've listened on Twitter and have found the most common hashtags used when talking about each quote category. We've selected the most common hashtags for each category and made those the "default hashtags'. For example, if you chose the Sales Quotes category, the default hashtags that would be tweeted with each sales quote would be #sales, or #sell or #selling, (we include one hashtag per quote) as an example. You always have the choice to use only your custom hashtags, or a blend of the default hashtags and your hashtags. You can switch these settings at any time.
What is custom content?
Our custom subscription is all about you. Have your own quotes or own content you'd like to share continuously on Twitter? Learn more about the Custom subscription and contact us for a conversation on how we can get your content into the Nimble Quotes system. Social media teams like this as it lets them concentrate on customer service, community building and content creation.
What happens after the 30-day free trial?
Your 30-day free trial is of the Advanced subscription complete with all the features and options for you to try out and personalize.  To keep the same settings after your trial ends, you'll want to buy the Advanced subscription.
You're looking at about $1/day for the Advanced subscription and about $1/week for the Basic subscription. Isn't your time worth more than $1/day?
At any time before the 30-day trial ends, log into your Nimble Quotes account and press "buy". Choose a paid subscription (Basic or Advanced), enter your credit card details through our secure site, and you're now a subscribed member to Nimble Quotes.
If you don't select a paid subscription before the 30-day trial ends, on day 31 your account converts to a Complimentary subscription (1 inspirational Nimble Quote / 24 hrs with no setting options, a link back to Nimble Quotes and our hashtag). You can upgrade to a Basic or Advanced subscription at any time to get your Nimble Quotes back to quote categories, custom hashtags and timing that makes most sense for your audience.
Who runs Nimble Quotes?
Nimble Quotes is a service from New Initiatives Marketing – led by Jennifer Kelly. Check out @jenkellyjen and @newimarketing for examples of what it looks like to have Nimble Quotes in your Twitter feed.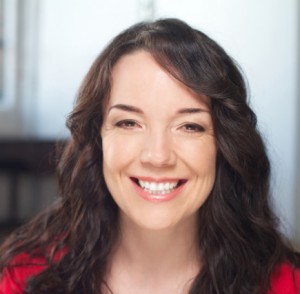 What if my question hasn't been answered on this FAQ?
Email us at info[at]nimblequotes[dot]com or click on the help desk icon in the bottom right corner of the screen.