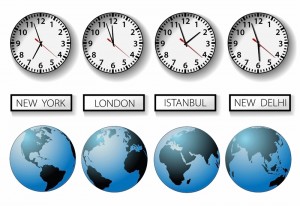 The timing for Nimble Quotes works in a few different ways.
When you sign in – if you decide not to change a thing, the default timing will cycle your three Nimble Quotes out per 24hrs based on the Eastern Time Zone (because we're based in Toronto, Ontario, Canada) from the Inspirational category. You can change the number of quotes, choose from 1-8 per 24hrs. Craving something more personalized? We've got a lot of choices around time control. Here are your options:
Time zone
Have an audience or want to build an audience in a different time zone than yours? Choose that time zone.
Days of the week
You decide if you want quotes (from 1 – 8) in your Twitter feed 7 days a week, only on weekends or just Mondays. Choose any other combination that works for you.
Time window
If the 24hr window is too much, you can change it. Our most popular time window is between 7am – 10pm, but remember – people all around the world are interested in the subjects you tweet about, consider opening your time window to 24hrs. It is always your choice, so simply set the start time of your window, and end time. Your quotes will only appear during this time.


Specific Tweet times
Would you rather your quotes go out at very specific times during the day? Choose exact times, down to the minute.

Pause/resume
This one has become a real hit. Pause your quotes at any time. Resume at any time. No need to reschedule a thing. Use this when you're ready to tweet live from an event, join a tweet chat or get into a conversation with someone on Twitter. Nimble Quotes will never interrupt you.
As with any Nimble Quotes setting, change them anytime. Come on over and give the 30-day trial a spin. Not ready – sign up for our newsletter.  To see how Nimble Quotes look when used on an active Twitter account, check out @jenkellyjen or @newimarketing.