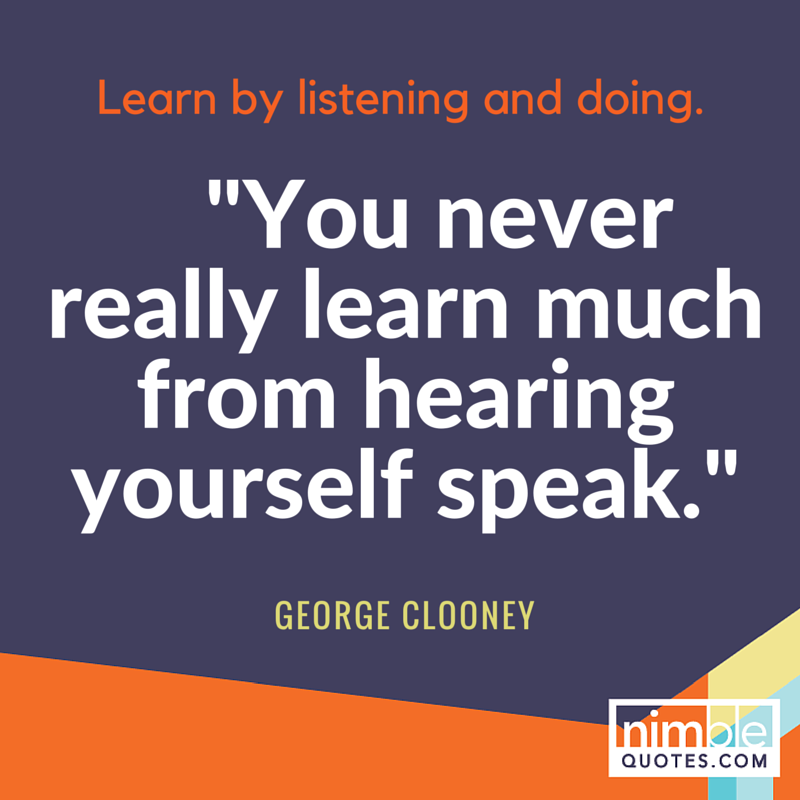 Last week I mentioned that I had the fortune of helping out at a local TED event. It was an awesome experience, and if you play your cards right you can get a lot of social media mileage from hosting an event. But you can also get a lot of Twitter content even if you're only attending an event. In fact, events are one of the richest sources of genuine, timely and relevant Twitter content.
Below I'm going to suggest various things you can tweet before, during and after an event, which you can use to beef up your twitter feed.
Tweet Before the Event
You can start tweeting about an event long before the actual date. In fact, you probably should. The event organizers want you to spread the word. Doing so will build up buzz and help make the event more successful.
The way it benefits you is that it shows your followers that you know what's going on in your industry and puts your name in front of other like-minded individuals going to the same event, and also helps you be known among the people running the event, who may be good connections themselves.
If you're stumped on what to tweet, then try:

Sharing the excitement. Dying of anticipation? Then tell people about it! Being excited on Twitter will make others curious as to what's going on and may encourage others to be curious, too.

Finding out who's going.  Wonder who else is going? There are easy ways to find out. Most events nowadays have a dedicated hashtag. Just tweet a quick question with the hashtag included, and wait for the affirmatives to pour in. You can even use it as an ice breaker if you want to interact with your followers.

Checking out the agenda.  Most events post an agenda online so people know what to expect. If you have any questions or comments about the agenda, then tweet them to the organizers. They'll be more than happy to respond (they want to build buzz, remember).
Sounds good, right? But the twitter content doesn't end there. Let's cover what happens during an event.
Tweet During the Event
If you've never heard of livetweeting before, then you're in for a treat. In essence, livetweeting is sharing what people are saying at an event, as it happens. You basically take a great line or quote that one of the speakers mentioned, and then tweet it to your followers using the event hashtag. This could also include pictures of the event, like so: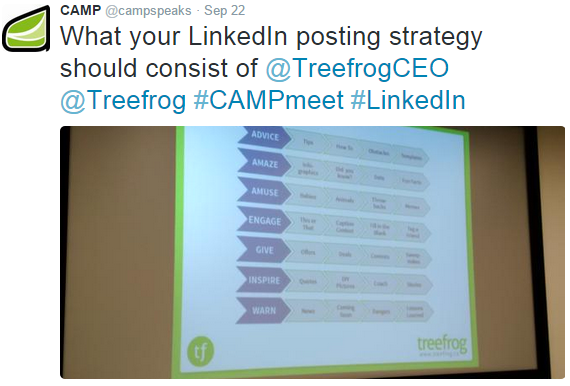 Livetweeting has many benefits, such as:
It promotes the event you're attending, especially if you include the event hashtag in your tweet.
Puts your name in front of other attendees, the organizers and interested people. It's a great way to create some personal brand recall.
Gives you lots of shareable twitter content that you can reuse later on. You can share inspiring or informational tips that you learned days after the event.
Livetweeting can be a bit of a challenge, especially if it's your first time, but just focus on the best quotes and you should be fine. Remember, practice makes perfect.
What to Tweet After the Event
Just because the event is over, doesn't mean your tweeting is. There are plenty of event-related tweets you can post long after the doors close and everyone's gone home.

Connect with the people you met. If you made new contacts at the event (or met up with old ones), Twitter is a great way to keep that connection going. Follow your new friends on Twitter and send them a follow-up tweet. It doesn't have to be anything complicated; just mention that it was a pleasure meeting them.

Reactions. Did the speaker blow your mind? Did you learn something new and awesome? Mention the speaker and tell them how much of an impact they made. It'll put your name in front of them and could maybe act as an ice breaker to get to know them better.
If you do it right, one single event can easily generate dozens of unique tweets—some of which can be reused for days after the fact. Tweeting can be a great way to ease in to meeting new people and establishing your brand name among a new crowd. The more visible you are, the more people will know about you even before you shake hands with them. So get tweeting!
Share inspiring quotes in your Twitter feed as if you tweeted them yourself. Choose from 30+ categories. Try the Nimble Quotes 30-day trial today. No credit card required. Sign up for the Nimble Quotes newsletter to learn how to get Twitter working for you.