One of the best things about going to industry events like tradeshows and conferences is the people you meet. I'm talking about like-minded industry professionals and business connections. Introducing yourself at the event is the traditional method of networking, but you can also use Twitter for networking in advance.
This is a great idea for a number of reasons:
First, you have a much higher reach with Twitter than you would just walking around the show floor. You'll be able to connect with people that you would otherwise just pass by in the aisles.
Second, setting up meetings in advance helps you save time. Arrange a meeting with people who will make the best connections (either because you can help each other with your businesses, or you just really want to meet them).
Here are some great ways to arrange for those meetings.
Make an Open Offer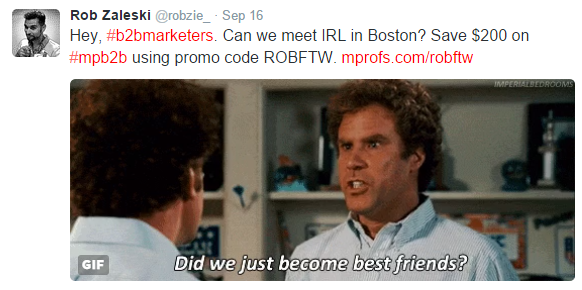 Tweet an announcement that you're attending the event, and make an open offer to meet up with anyone else who's interested. If there is an event hashtag, make sure you reference it. If there are any other industry hashtags you can reference, you can use those to increase your announcement's reach, too!
Approach Specific People
Another way to use Twitter for networking at the event is to respond to those who make the same offer. If other people tweet that they'd like to meet up with people, and they seem to be good contacts, then go ahead and reply! Take them up on their offer and set up a meeting time and place.

You can also try to approach other people who've announced they're going to this event. But be aware that normal social rules apply here: strangers might not be open to it. The best scenario for this approach is if you already follow the other person on Twitter and they already know you.
Organize a "Tweetup"
A "Tweetup" is when you organize a meetup of a group of people who already interact on Twitter. If you have a large following, or have a large group of Twitter friends, you can organize a meetup of whichever Twitter contacts want to attend.
If you do decide to do this, you'll probably to have to set the tweetup in a venue separate from the event, like a restaurant or bar. And be prepared for people you don't know to show up! Twitter is an open environment, and there may be people who read your tweetup announcement and plan to go, but didn't RSVP.
Tradeshows and events are lots of fun and great for business, and if you properly use Twitter for networking, you may be able to make some awesome new professional contacts.
Share inspiring quotes in your Twitter feed as if you tweeted them yourself. Choose from 30+ categories. Try the Nimble Quotes 30-day trial today. No credit card required. Sign up for the Nimble Quotes newsletter to learn how to get Twitter working for you.