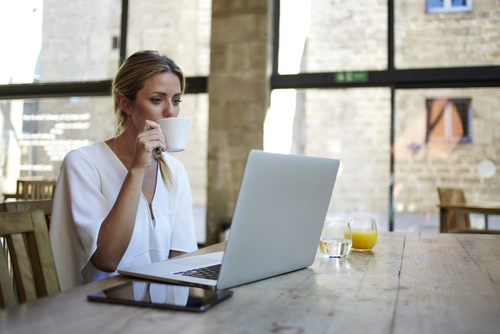 Inspirational business quotes for women sometimes are  clichéd and unoriginal. But in the Content Factory article "25 Quotes That'll Inspire Entrepreneurial Women to Kick A%# in Business and in Life," we're provided a list of sayings that are worthy of all the courageous businesswomen out there. Although we love every entry, here are three of them that are especially worth noting:
On Conquering Fear – "Courage doesn't always roar. Sometimes courage is the quiet voice at the end of the day saying, 'I will try again tomorrow.'" – Mary Anne Radmacher, author
Starting a business is scary, especially as a woman. Studies have shown that women are generally more risk-averse than men, so those who do step out and go it on their own should be proud. Realize that even when failing, there's courage in having the strength to try again.
On Finding Your Voice – "A woman with a voice is by definition a strong woman. But the search to find that voice can be remarkably difficult." – Melinda Gates, businesswoman and philanthropist
While men are encouraged to be assertive and speak up for themselves, women generally are not. Yet, women who want to succeed in business must speak up when necessary. It can be hard to find your voice sometimes, but it's a crucial part of becoming a strong businesswoman. If you believe in yourself you can do it!
On Hard Work – "You're not in competition with other women. You're in competition with everyone." – Tina Fey, actress and comedian
It may be natural for businesswomen to feel like their competition lies in other women, but the reality is, their competition is everyone. Don't limit yourself, your influence, or your potential. Women have a place in business and are just as qualified to compete in all areas as men are.
Inspirational Business Quotes
If you'd like to post inspirational business quotes for women on Twitter, Nimble Quotes is here to help. We're a leading content service that can help you harness the power of Twitter by increasing your followers, improving your conversations, and deepening your relationships within your social media community.