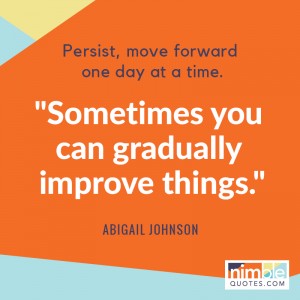 Personalize quotes?
A woman who is just starting her 30-day trial of Nimble Quotes wrote to me yesterday. She didn't feel that one of the quotes she saw in her Twitter feed (from Nimble Quotes) was right for her. Just to be clear, it wasn't offensive, it just wasn't "her". She wondered what she could do about it so it wouldn't show up again. She also wondered how she could choose which quotes could show up in her Twitter feed. How could she personalize inspirational quotes so they felt right for her?
Author Choice – personalizing inspirational quotes
There is a setting in Nimble Quotes called Author Choice. The reason it exists is for users to be able to choose those authors they do or do not want to have quotes from. To customize this setting, which is available for Basic and Advanced subscribers, follow these steps:
First, sign into nimblequotes.com with your Twitter account
Next, click settings to see the drop down menu, choose "Authors"

The Authors page will open up. Search by first or last name. Once you find the author you DO NOT want quotes from, uncheck the box by the name. In this example, I've unchecked Abraham Lincoln as an author I do not want quotes from. The system will update immediately. This is all you need to do.

Some users only want quotes from their 10 favourite people – with Author Choice, this is possible. Others find out which authors' quotes they like and which they don't after a couple of months on Nimble Quotes, then make the change.
Settings changes are flexible. Come on back and adjust however it works for you.
Why Author Choice matters
I want to be sure you understand how much effort has gone into the gathering and vetting of appropriate quotes for your enjoyment. You put a large amount of trust into Nimble Quotes when you sign up – you need to trust that the quotes we have in our database are going to make you and your brand, your company, look good to your audience. I take this trust you place in this service very, very seriously.
We have carefully vetted all quotes in the system to be sure they are not political, not racist, not sexist, not negative…we wanted this service to be one that was a very positive experience for the users AND for your audience – since they'll be seeing "your" quotes each day and will have assumed you've chosen to tweet that particular inspirational or motivational quote.
Still, not every quote or every quote author is for everyone. And that is why we created the Author Choice setting, so that you have as much control over the quotes as possible. I hope this feature makes you feel confident about Nimble Quotes and pleased that you can personalize inspirational quotes on Twitter.
Want to try Nimble Quotes? Sign up now for 30-days free. Your trial is of the Advanced subscription – be sure to check out and make use of all the features including images (which are in beta testing), hashtags and specific day or time scheduling. Set once and let it run automatically.