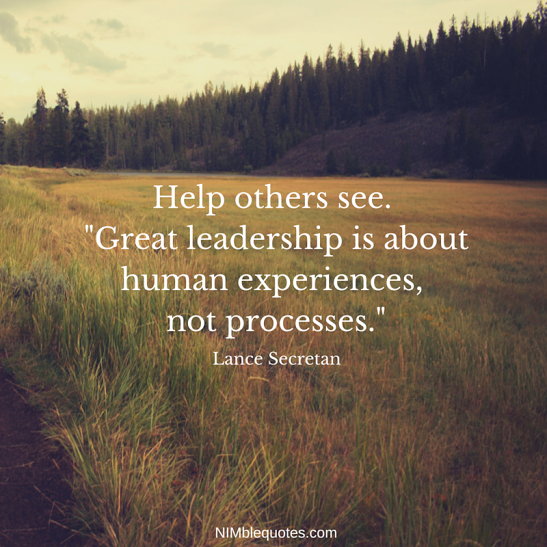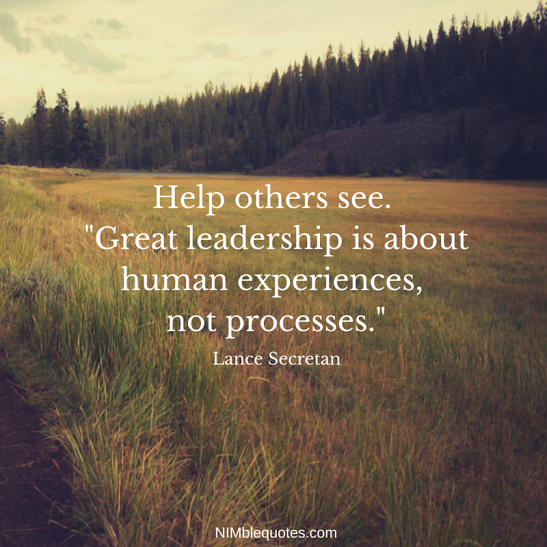 Did you know you can search Twitter a similar way as you search on Google? Did you know using hashtags on Twitter when you tweet can help your tweet show up in Twitter searches?
Hashtags are also very powerful tools for connecting and building a network on Twitter.
What Are Hashtags On Twitter?
Hashtags are keywords or phrases that begin with the hashtag symbol (#). Hashtags are used to categorize tweets. On Twitter, when you click on a word or phrase with the hashtag symbol before it, you will be taken to a page with a list of tweets that contain that same hashtagged word or phrase.
If you use a hashtag in one of your tweets, someone who doesn't know you but is interested in that topic can see your hashtagged tweet. It's a great way to generate more interest in what you post and more awareness for you and your business.
Hashtags On Twitter Help
Hashtags create a wonderful opportunity to build a network. Twitter allows you to search for millions of different topics, so you can look up hashtags specific to your work and interests. And Twitter shows you all of the tweets pertaining to the hashtag, not just the tweets of those you're following. This way, you can get into conversations, follow, RT, or favourite tweets from people you don't even know yet. What a great way to meet and get exposed to more people, companies, charities, conversations and events. Learn more with these 5 ways Twitter hashtags help you engage and get noticed.
Try It Out For Yourself
So take advantage of hashtags on Twitter and get searching. You'll find interesting topics for discussion and new people to interact with. Here's how to start.
To search on Twitter:
Go to https://twitter.com/search-home


Type in the hashtag of the topic you're searching for information about. If you are not sure there is a hashtag for your topic, start typing and you'll see the hashtags that are currently used for that topic.
In our example, we'll use #SmallBiz.

Here is a screen shot of the most recent tweets with #SmallBiz. We've circled in red the hashtag #smallbiz in each tweet. This is why these tweets were brought up in the search.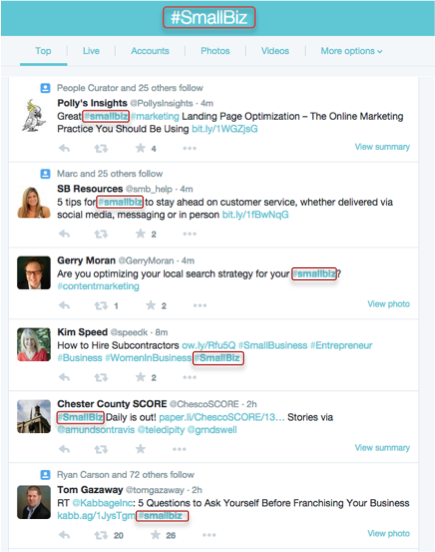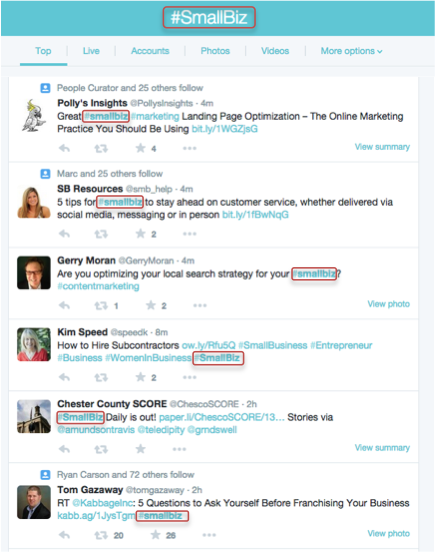 Creating your own hashtag is also a great way to get your business into the conversations where your customers, clients and colleagues are, as well as potential customers, clients and colleagues. Find some more information on using Twitter hashtags for your business tweets by Stephanie Buck.
Try Out Quotes With Hashtags
Using quotes is a great way to interact with your Twitter audience. With the Nimble Quotes service, you can try 1-8 inspiring quotes per day automatically tweeted from your Twitter account. You'll also get the option of adding hashtags to your tweeted quotes, making your tweets even more engaging. Try us out today – we offer a 30-day free trial with no credit card required. Once your trial is over, it costs about $1/day or about $1/week to continue. Check out Nimble Quotes in action on @jenkellyjen or @newimarketing. Not ready for a trial just yet? Sign up for the Nimble Quotes newsletter instead.